THE BAGS '89 is a collection of performances never before released in digital form. Here's the track listing.
From The Bags LP: Bagpipe / Evil / Beauty of the Bud / Atomic Coconuts / Dropout / Rip You Down / Dummy / 1000 / Acre Woods / Superpower / Take It Or Leave It / Closer Then / Swog
Unreleased Tracks from 1989:
Volume Freak / China Doll
From the 1989 Stanton Park 45:
Hide and Seek / I Know
Order it now at Stanton Park, or at cdbaby! Or, you can download it at iTunes.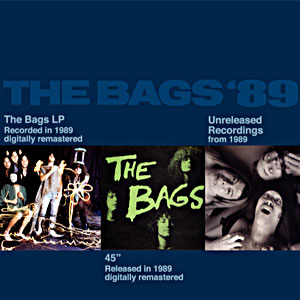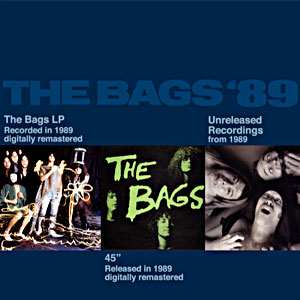 Some original press:
"With the grade-A snarl and swagger of their self-titled second album, the Boston raunchers the Bags are shoo-ins for Kings of Garageland 1990. At their best, the Bags rip it up like the Meat Puppets-meet-Motorhead, a marriage surely made in bar-band heaven." – David Fricke, Rolling Stone
"Bagpipe, Evil, and Dummy all storm from the speakers in a surge of hardcore energy, but there is an extra weight to the rhythm section, a wilder mania to the guitar, that wasn't present on Rock Starve.
While trading off vocals from song to song, both Wood and Hardy now display a fearsome mastery of the lower, louder regions of the voice box. Powered by this vocal prowess, Beauty of the Bud is a crushing rock stomp, not an ode to Anheuser-Busch but a song written from the point of view of a non-believer in the benefits of smokable drugs. Atomic Coconuts is a ridiculously catchy jumble of funk and nonsense that Janota claims is about sex or drugs or, most likely, nothing. Huge and ominous, Thousand Acre Woods, Closer Then, and Rip You Down (on which Wood expresses a preference for Hell as an address) tread the fine line between introspective hard rock and nightmare.
But it's not until the record's final track that the Oaf completely rears its head. Swog proudly devours five minutes of vinyl in a conglomeration of psychotic vocals and instrumental grunge. This is the Bags at their most glorious." – Polly Campbell, Boston Phoenix
_____________________
If there is one Bags album that you need to hear, it is their sophomore effort, 1990's eponymous full-length. Sure, their 1988 Restless debut, Rock Starve, was great. It was chock full of classic originals like "Pioneer," "Try It," "Tailbone," and "Love Sick Dianne", which made official the mark The Bags were making on the Boston rock map, and earning them well-deserved critical acclaim, both locally and nationally. Problem was, you had to see The Bags live (or listen really, really carefully) to know that, for all of Rock Starve's worth, the production — solid enough, but ultimately too murky on the low end and too splashy on the high — obscured the real, unfuckwithable power of this formidable trio.
It wasn't until The Bags cut their ties with Restless, enlisted budding sound engineer Carl Plaster (if there ever was a "fourth Bag," it was/is Carl), and took their arsenal to local garage label Stanton Park that Bags records actually started SOUNDING like the mind-crunching powerhouse the band had always been. First came the "Hide And Seek"/"I Know" single, a two-headed monster of heavy sludge clobber and hooky, dynamic punk pop craftsmanship that teased at the shape of things to come. Then they gave us the record: The Bags. It didn't need a title. This, make no mistake, was The Bags. (I'll get to where Swamp Oaf fit in to the whole picture when my pitch to the 33 1/3 book series gets approved…)
When bass player Jon Hardy asked me to "write a little blurb for the CD Baby page," I obliged immediately, not realizing what a daunting task I'd face. But when I asked him what he was looking for, he came back with a killer: "Just five or six sentences." It was then that I knew, crystal clear, the sadism Carl Plaster referred to when the band enlisted him to write the original liner notes for the album nearly 20 years ago. Six sentences? Are you SHITTING ME?!? I could Lester Bangs this album into the parenthetical stratosphere! This is the Holy Grail of the Bags catalogue. This is the gateway drug to the band. I have made countless Bags brainwash tapes for friends over the years — shit, I wore out a couple of copies of the original, vinyl-only pressing, with the first verses of "Bagpipe" mired by irreparable scratch-induced skips on the first dozen-odd tapes. This record in its blessed entirety is the crucial "how-to-GET-The-Bags" cornerstone.
I've been racking my brain for a way to avoid that necessary-evil thing that music critics (myself included) feel compelled to do: the laundry list of comparisons. Every time I start concocting something like, say, "If Jimi Hendrix lived to see The Ramones (or, better – LaPeste)…" I stop, because it ultimately misses the mark. Basically, the point is that these guys were punk rockers who grew up on the heavier rock of the 60s and 70s, and their music reflected both worlds. The Bags weren't the only band that was blurring those lines and stretching the bounds of genre at the time — thankfully, that approach to rock-making continues to this day with "stoner rock". But they were among the first to not only try it but get it so damn right. This record captures the core essence of this remarkable band.
And now, after how many years out of print? 16? 17? It's available, finally, again.
Tim Kelly, WMBR's Late Risers' Club