Track listing: Amsterdamned / The Mole / September / A Pile of Money / Covered Up / Who's Laughing Now / Naked Lady / I Smell A Rat / Movin' To The Country / Barb Jones / L. Frank Baum / Matter of Time / Hey Maloney / The Shower / Refrigerator Song / In My Headphones / Meanwhile / Maloney's Trip / The Grand Mythooza
Bonus Tracks: Dr. Lb. / Frilly Underwear
You can buy Night of the Corn People at CD Baby or Stanton Park . Or buy it on iTunes.
"The Mole" – from Night of the Corn People – is featured in the film Air Guitar Nation (2007), and "I Smell A Rat" is covered by Sebadoh on the album Harmacy (1996).
Originally released by Stanton Park Records just prior to the band's extended 12 year vacation, Night of the Corn People was described at the time as "a feast of a set which contains enough hardcore guitar overkill to satisfy most heavy guitar rock fans, enough strange poetic weirdness and odd signatures to have children of the psychedelic revolution revolving in their jelly baths, and just enough rock-operatic genius to satisfy the self-seeking progressive lovers of 'serious' rock & roll" (Phil McMullen, Ptolemaic Terrascope, April 1992).
This reissue includes bonus tracks and a 12-page booklet featuring old and new cover art, liner notes, lyrics and photos.
More press from 1992:
"No-one worships the god-like riff like Boston's Bags. Theirs, as in "Amsterdamned," is the neo 70's riff that conclusively proves that Jimmy Page is dead…They are so tight they shit diamonds" (Gecko, Hartbeat #14).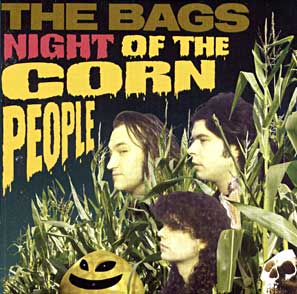 "It's simply a fun, fun, fun record. It's got oodles of grungy guitar, some ripping solos, rollicking drum beats and dizzying tempo changes, cool lyrics, and even a mini-opera entitled "Waiting for Maloney," which sounds like The Dead Milkmen doing "A Quick One" on the fourth side of the "White Album" (Michael Jordan, The Noise #115).
"Like all of their other stuff it's fast, loud and a shitload of fun. Punk, pop, garunge and even a bit of metal are all tossed together with some biting lyrics to create that unique sound of The Bags. Once you've heard them, it's hard not to recognize this band upon the next listen" (What Wave #21).
"It's prime Bags at their very most powerful, and when they're in that kind of mood, with the vocals bashing out rasps that sound like terrapins in a miked-up muesli grinder and the guitars switching between early Blue Cheer sonic thuds and way overblown laser-beam solos, there ain't a band still around to touch them" (Phil McMullen, Ptolemaic Terrasope V3#2).
"The Bags have called it quits, but not without leaving us almost a double album's worth of their grungy, hard-rocking best. Night of the Corn People is a perfect swan song because it fuses the best elements of The Bags sound – from the metallic punk of 1987's Rock Starve to the power-trio jamming of 1990's The Bags, with a stop along the way (after winning the 1989 Rumble) to indulge their experimental alter egos on Swamp Oaf (all available on Stanton Park Records, except for Rock Starve on Restless). Their lack of commercial success is probably due in part to the musical experiments and the sometimes morbid, sometimes bizarre sense of humor that make this final disc so entertaining.
"The Bags have always had the feel of a true garage band in the very best sense of the word: they sound as if they'd grown up together, listening to the same records and one another for so many hours on end that every move becomes instinctive. The sources might be elemental – the Stooges, Led Zeppelin, Black Sabbath, The Sex Pistols – but you can't be taught to play together the way The Bags did, fusing hard rock, heavy metal, and punk into music that leans toward the dark, sometimes paranoid sensibility of the Stooges ("Naked Lady" could be Iggy circa Lust for Life) and Motorhead ("I Smell a Rat"). For the most part the Bags stake out their own territory with songs like "The Mole" (a Kafka-esque tale of a man turning into a mole) and five tunes that deal directly with the subject of death, including "Covered Up," which puts an unusual spin on the subject with an infectiously hooky vocal harmony by bassist Jon Hardy and guitarist Crispin Wood.
"Hardy and drummer Jim Janota have developed into an intuitive and powerful rhythm section, which gives guitarist Crispin Wood a solid and tension-filled foundation for rhythm/lead playing. Wood's trademarks are his wah-wah-drenched frantic speed runs and over-bent string solos that punctuate his churning rhythm playing and are particularly effective here on the bitter "Who's Laughing Now." He also pulls off a great distortion-laden, meandering, Neil Young-style solo on "Movin' to the Country."
"It isn't until the end of the disc that the Bags indulge their mastery in the art of self-conscious imitation and parody. "L. Frank Baum" (previously released as a single) is the cleverest swipe at Tolkien-esque narrative heavy metal since Spinal Tap's "Stonehenge." The Bags actually one-up Spinal Tap by playing this metallic version of The Wizard of Oz with impressively precise technical proficiency, including thunderous double kick drums, a well executed Van Halen guitar lead, and some truly beautiful screaming falsetto vocals. It almost makes you think these guys could make a living as a cheesy heavy-metal band, though they would need new haircuts.
"The 22-minute "rock opera" "Waiting for Maloney" goes even further into the land of parody, bringing back a more focused taste of what the Bags were up to in their Swamp Oaf incarnation. This seven-part song cycle is the story of a band waiting for their leader Maloney (who might be related to Billy Shears of Beatles fame) to show up for a jam session. When you consider the title, it starts to look like a hybrid of Beckett's Waiting for Godot and Malone Dies." (Matt Ashare, Boston Phoenix, 1/10/92).