Our first full length release after a 13 year hiatus! Sharpen Your Sticks contains 15 songs recorded by Carl Plaster at Mad Oak Studios in Allston.
Track listing: Bucket of Blood / Believer / Babbling Cadaver  / Here Come the Creeps / Want It All / Cavemen Rejoice / The Footprint / Thank You / Ivan The Terrible / Unbelievably Cool / Me Dumb / Ass Kicker / Gargoyle / Unlock the Cage / Anemone
Read all about it – here.
"Cavemen Rejoice" – from Sharpen Your Sticks – is featured in the hit PlayStation 2 video game Guitar Hero.
You can buy Sharpen Your Sticks online – either at Stanton Park , or CD Baby . Or buy it on iTunes.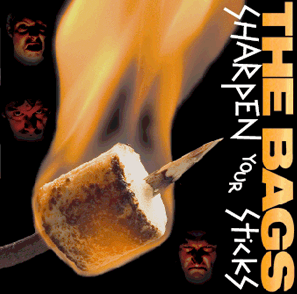 The Boston Phoenix says:
"Along with Bullet LaVolta, the Bags are the band most often credited (or blamed, in some circles) for introducing punk metal to Boston. Which means that they don't have to worry too much about their sound having gone out of style since they last rocked. In fact, to a large extent, the new CD picks up where 1991's Night of the Corn People left off. There is a key difference, though: the CD of Corn People had 13 songs and ran 69 minutes. (Granted, one of those songs was "Waiting for Maloney," the first and only lengthy rock opera about commuting from Allston to rehearse.) The new disc serves up 15 songs in 36 minutes: the sound is still metallic, but the songs are all punchy and punky. Meanwhile, the lyrics from Wood and Hardy amount to a puncturing of metal's ponderous tendencies. Imagine the post-therapy self-loathing of Metallica's St. Anger played for laughs and you'd have the Bags' "Believer" or "Ass Kicker" ("You're gonna kick my ass, that I do know — Kung Foe"). So forget about this being just a respectable comeback and call it the Bags' best album. Period." -Brett Milano